I looked forward to receiving this book, Write on Time – Arizona, Book 1, to review, as my daughters love to find new reading material, especially chapter books in a series.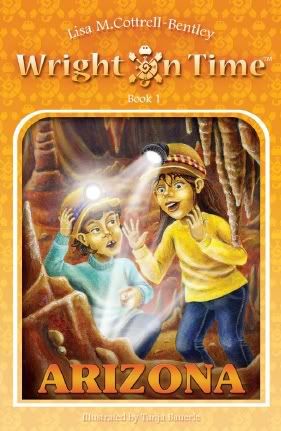 This set of books follows a homeschooling family as they travel in their RV to each of the fifty states. In this first story, set in Arizona, the family (two parents, a seven-year-old boy and an eleven-year-old girl) explores a desert cave. As the story unfolds, a wealth of information is imparted as readers are introduced to all kinds of interesting facts about gems, minerals and other rock formations. The glossary in the back of the book is very helpful. The material also seems to work well for the five-to-twelve year-old age group to whom it is directed.
Due to the educational nature of the series, I do think this book could be an interesting read, while at the same time introducing factual information. However, I felt that at times the flow of the actual story was a bit choppy and am not sure that the overall idea is executed in this particular book as well as it could be. One small detail that bothered me was the boy's constant use of the word "freaky" as in "freaky cool" and "freaky awesome." Those don't happen to be phrases that I want my daughters reading, since they are quite likely to repeat them, especially at a most inopportune time!
To find out more about this series, you can visit the Wright on Time website where you can also purchase the book for $12.99.

This is a Mama Buzz review. The book for this review was provided to me free of charge by Write on Time books. The opinions expressed in this post are my own and I was not compensated for them in any other way.
Sign up below to receive new posts by email.